FASHION DESIGN COURSE IN KOLKATA OVERVIEW
In last few years, fashion design course in Kolkata has become very popular. The boom in the fashion industry is hard to deny. This boom will pioneer and challenge the new generation to explore fashion with theoretical concepts and practical methods. The main motive of specialisation programs in fashion design course in Kolkata is to acquire the in-depth knowledge of the fashion sector in all of it aspects through creativity and knowledge of other aspects related to fashion.
If you have a creative mind, when it comes to clothing and attire, fashion designing can be a good career choice for you.
WHAT IS THE ELIGIBILITY CRITERIA ?
Students who are willing to pursue fashion design course in Kolkata must fulfill certain criteria. To apply for admission to fashion design course in Kolkata, candidate must it complete there class 12th in any subject ( like Science,Commerce, Arts). Such candidates are eligible for a fashion design course at graduate level in Kolkata.
The candidate must pass class 12th examination with at least 50 percent from a recognised Indian board for admission to fashion design courses at graduate level.
Candidates scoring not less than 50% in bachelors degree from a recognised college or university is eligible for PG fashion design course in Kolkata.
Candidate must complete 10 + 2 from a recognised board in Kolkata with less than 40-50% for pursuing to diploma course in fashion designing. 
1st YEAR OF FASHION DESIGN
In the first year of fashion designing course, GIFD institute of best fashion designing introduces the basic concepts and knowledge in fashion and its businesses. This course provides industry oriented knowledge methodology with technical understanding and professional skills. Basic modules of learning that GIFD provide involves foundation on designing, drafting & Pattern making, Fashion sketching, Textile studies, colour concept, fabric studies, computer fundamental with communication and soft skills are sharpened. During the course, technical skills are enhanced to build up the core knowledge and skills on designing.
2nd YEAR OF FASHION DESIGN
In the second year of the fashion designing course in Kolkata, GIFD imparts the knowledge on how to do innovation and understand new creation to enhance their professional ability with modules like construction studies of innovative garments, fashion history, Computer graphics & Fashion designing and Fashion presentation. GIFD is a Professional Fashion Designing Institute in Kolkata. The students will be prepared for Industry internship with the analysis of best practices in the area of design and technical aspect of manufacturing processes comprise production planning & control, product analysis, quality control and CAD/CAM development.
3rd YEAR OF FASHION DESIGN
During the final year of the fashion designing course, students will be performing on individual projects undertaken by mentors which integrates and applies all learning from the program. GIFD provides Professional Fashion Designing course in Kolkata and Best Interior designing course in Kolkata.

Aspirants will be undergoing with professional projects with modules like fashion merchandising, international marketing, entrepreneurship and survey & projects.
ART AND CREATIVITY IN FASHION DESIGNING
A person with great skill in creativity and artistic sense with proper knowledge in fashion design becomes successful in the field of fashion designing. Drawing well and expressing the idea with innovative thoughts effectively is a symbol of a great fashion designer. There are certain more skill that needs to be present in a good fashion designer such as observation, creative thinking, artistic taste, give attention to even minute details, knowledge of market demand, etc.
INNOVATION IN TECH IS THE KEY TO FUTURE
Fashion and technology are two different terms. Both are joined together to bring out the best in fashion. Among these two words one is warm and tender another one is cold and sharp. Whenever we think about wearable technology an updated fashionable lifestyle flashes in our mind. Fashion tech is a technology that enables a fashion experience when you wear it or interact with it. Fashion tech is already capturing the world with the advancement in technology.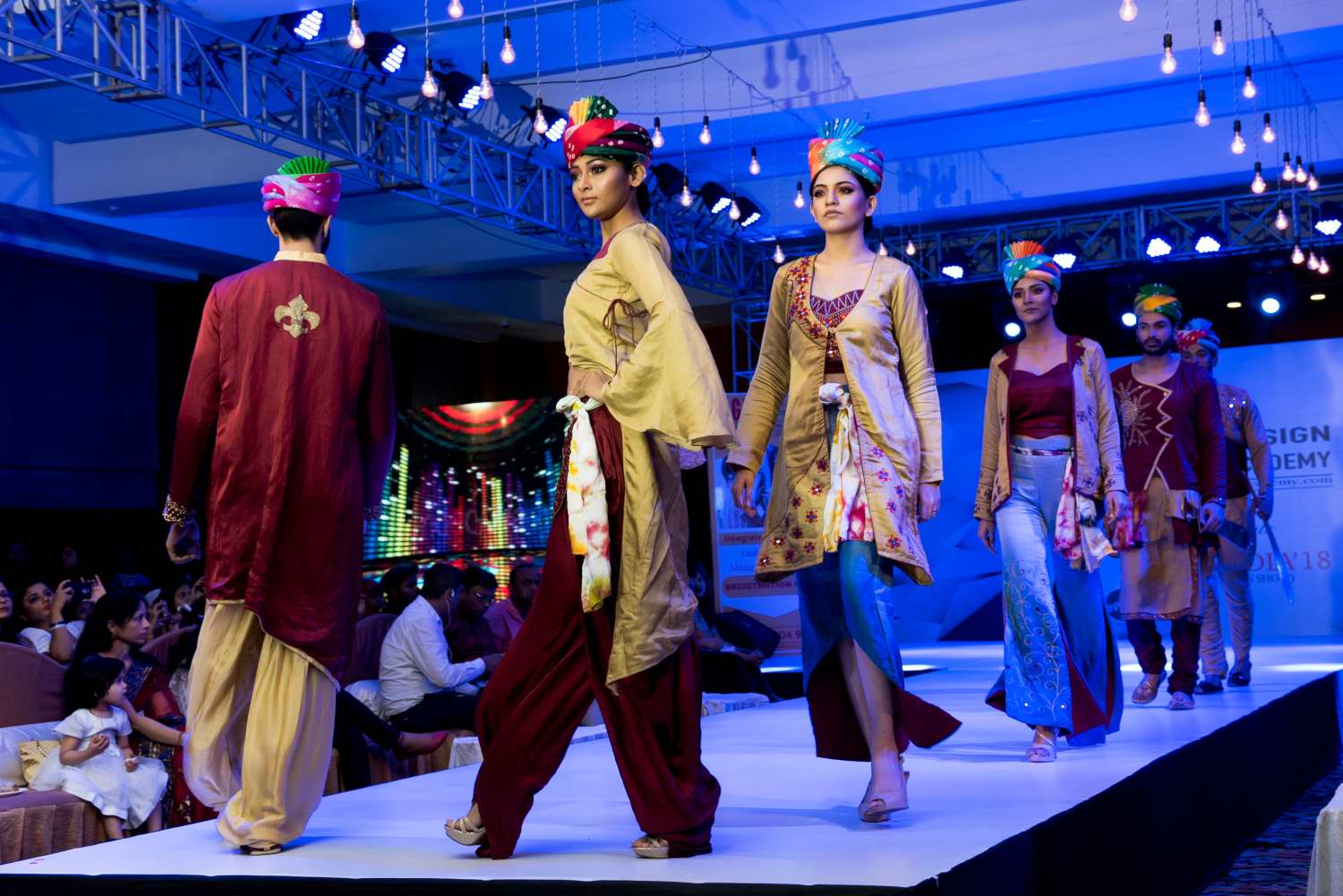 CAREERS IN FASHION DESIGNING IN KOLKATA
Fashion designing in Kolkata not only involves fashionable garments. It includes textiles, fabrics, jewellery designs, footwear and many more aspects. With the digitisation and advancement in technology, fashion designing is also heading towards the epitome of success; not only in terms of lifestyle but also in career making. It is quite obvious if world is accepting the advancement in lifestyle then the cost of it will also increase. So people are indulging more and more into the fashion design industry as a career opportunity. A fashion enthusiast with proper theoretical and practical knowledge can also set up and continue his or her own business and make their own way. For those wishing to do futher studies in the fashion design field have many specialisation options to choose from.
Fashion not only focuses on the designs and looks. It also focuses on developing more durable and sustainable designs. Presently, fashion trends also looks upon the sustainable design, production, fashion business management, designs for future etc. In the course, students are taught about new and innovative methods of designing along with new pattern making techniques with the use of new technologies, IT applications, etc.
fashion design top recruiters
Our best recruiters are Raymond, Peter England, Arrow, Reebok, Nike. Get the best placement opportunities with such highly known brands with high packages. Explore the top fashion designing job opportunities from these companies. All jobs are added by verified employees. It takes just one job to develop a successful relationship that can push your career forward positively. So think before you choose one.